The Six Kinds of Stories With Annette Simmons
Posted by

Categories

Blog

Date

December 2, 2021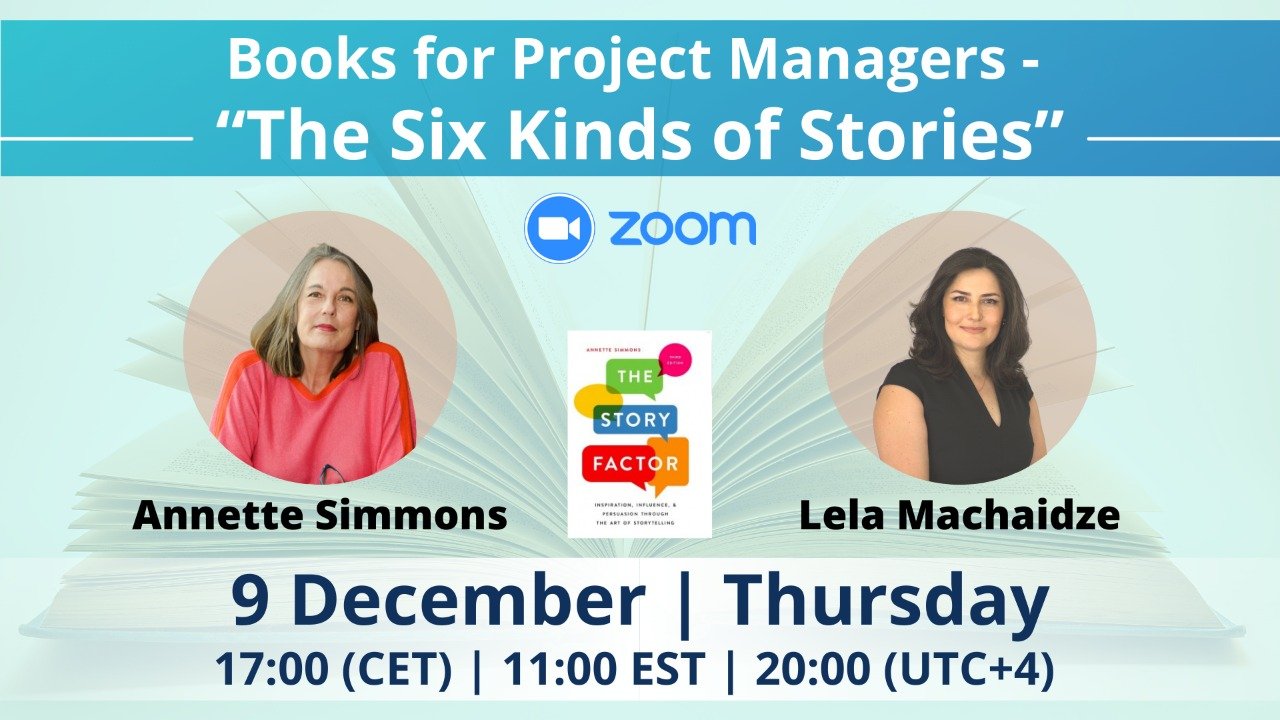 📢 [Free] Webinar – "Books for Project Managers "The Six Kinds of Stories" –  is initiated by Lela Machaidze, PMP, MBA from Georgia. Annette Simmons > our honorable guest – a keynote speaker, consultant, and author of four books including The Story Factor 
🔷 Lela Machaidze – Bio:
📌 Lela Machaidze is specializing in program and project management, monitoring/control system development and validation, strategic and action plan development. Also, she is specialized in capacity, capability and training need assessment development, project management manual, and systems development and implementation for public and private sectors. She is the initiator, co-founder, and President of the Project Management Institute in Tbilisi, Georgia. As a certified Project Management Professional (PMP) and Business Relationship Management Professional (BRMP) she participated in several programs and managed business operations throughout implementation and close-out. She has conducted several pieces of training in Georgian and English for the public/private sector and SME mid and executive-level representatives underframe of different training centers as well as independent consultants/trainers.
🔹 Lela Machaidze LinkedIn: https://www.linkedin.com/in/lela-machaidze/ 
🔷 Annette Simmons – Bio: 
Annette Simmons is a keynote speaker, consultant, and author of four books including The Story Factor, listed in The 100 Best Business Books of All Time. She got her business degree from Louisiana State University in 1983, spent ten years in Australia in international business, got an M.Ed. from North Carolina State University (1994), and founded Group Process Consulting in 1996. Her latest book is Drinking from a Different Well: How Women's Stories Change What Power Means in Action.  
🔹  Annette Simmons: https://www.linkedin.com/in/annettesimmonsstory/
🔹 For more visit Annette's website:
⌚  The webinar is going to be held online via ZOOM on 9 December at 17:00 (CET) 11:00 EST 20:00 (UTC+4) 2021
📌 Invite your connections to help them get important information and experience from the subject experts
🔗 Zoom Link:
📌 Language: English
✅ Attendance is free!
🔸 The registration deadline is December 7 (22:00 CET).
📨 Feel Free to Contact us via email: